---
This October, during Black History Month, Scottish BAME Writers Network launch Metaphors for a Black Future, curated by Martha Adonai Williams, featuring workshops for Scotland-based writers, non-writers and artists of all experience levels, who are Black/from the African diaspora, including people of mixed heritage.
This includes a programme of free workshops, interdisciplinary responses and sharings that respond to futurist thinking and practices as a strategy for change and a stimulus for writing.
All Black writers and artists, including those who don't think of themselves in these terms but are simply interested, are invited to enter into this emergent process; to create, to share, to play and experiment with their work and to connect with one another. We will not be prioritising the creation of finished pieces during the programme but will be inviting participants to share works-in-progress and never-to-be-heard-again-works at a sharing event in December.
Metaphors for a Black Future is complemented by our new Scottish Black Writers Group, a meetup facilitated by our Co-Director Dean Atta and in association with Scottish PEN. Open to writers across the UK and Ireland who are Black/from the African diaspora, including people of mixed heritage. You can register for the Scottish Black Writers Group here.
Metaphors for a Black Future Calendar
You may sign up for one, several or all events – we hope to have a cohort of creatives join our full Metaphors for a Black Future programme.
When:
Sun 25th Oct, 11am-2pm, Dream Bodies with Clementine Ewokolo Burnley
Thu 29th Oct, 7-8pm, 'Which Flag to Wave?' with Dean Atta
Thu 12th Nov, 6:30-8pm, 'Memory of the Future' with Natasha Ruwona
Thu 26th Nov, 7-8:30pm, 'Speculating on Black-Pleasure as Future Building' with Ama Josephine Budge
Sun 6th Dec, 3-6 pm, 'Writing the Layers' with GG Renee Hill
Thu 10th Dec, 6:30-8:30pm, Sharings – invite only
Please find full details for each event and access info below.
Please be mindful when booking. This is a workshop for Black/African diaspora writers based in Scotland (or who would normally be resident in Scotland, outside of COVID-19 circumstances).
Access
All events are free.
There is a max of 20 spaces at each workshop.
All events are suitable for people 18+ years.
Events are hosted online using Webex (instructions will be sent 2 days before each event or can be accessed via the Eventbrite Online Event page).
To participate you will need an internet/wi-fi connection and a desktop or mobile device to join by audio and/or video.
BSL interpretation and/or live captioning provided on request during registration.
Events over 2 hours long will have a comfort break in the middle. You may mute your mic/switch off video or take a break at any time.
Please add any access requirements to the registration form.
All SBWN events will adhere to our safer spaces policy. You can learn more about our policy here.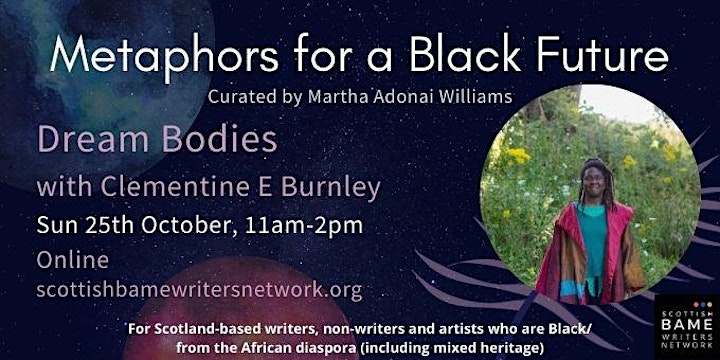 Dream Bodies with Clementine E Burnley
Date: Sun 25th Oct 2020
Time: 11am-2pm
Facilitator: Clementine Ewokolo Burnley
Led by Clementine Ewokolo Burnley, we will look collectively at dreams, intuitions and body experiences as the soil for creative work.
How: Through reflective communication, appreciative inquiry, body based meditation techniques and silence.
Through readings and reflection questions.
During the workshop, you will be welcome to participate in the techniques and tasks that feel right for you and choose where you are comfortable on a spectrum between self-guided and structured creative tasks. Possible directions we will discover and follow might be:
To dream together
To allow slight intuitions, impulses and urges to surface in what we create, to track where that comes from and what conditions it expresses or silences
To explore places, situations and historical periods where dreams guide important life decisions and creative practice
To make what we feel, see and dream visible in our work
To use information contained in images, movement and body sensations
To use what we say to ourselves in childhood dreams, night-time and waking dreams to guide our creative process
To allow our work to speak, or not, about possible futures
About Clementine
Clementine Ewokolo Burnley is a feminist migrant mother, and facilitator. She's been in the final selection for the Amsterdam Open Book Prize, the First Pages prize and has attended Chimamanda N. Adichie's Purple Hibiscus Trust Workshop. Her most recent work appears or is forthcoming in Folkways Press Anthology 'We are not Shadows,' The National Flash Fiction Anthology 2020, and Barren Magazine. You can find her on clementineburnley.com. She tweets @decolonialheart.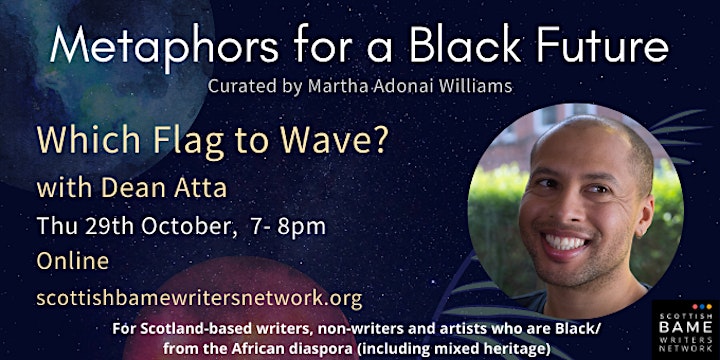 Which Flag to Wave? with Dean Atta
Date: Thurs 29th Oct 2020
Time: 7-8pm
Facilitator: Dean Atta
Suitable for beginners and experienced writers, 'Which Flag to Wave' is a creative writing workshop facilitated by poet Dean Atta. We will use flags as metaphors to discuss pride in various forms, including sexuality and nationality. We will look at poems by Bashabi Fraser, Danez Smith, Hannah Lavery, John Agard, Keith Jarrett, and Dean will guide you to write your own poem.
About Dean
Dean Atta was named as one of the most influential LGBT people in the UK by the Independent on Sunday. His debut poetry collection, I Am Nobody's Nigger, was shortlisted for the Polari First Book Prize. He has a Philosophy and English BA from the University of Sussex and a Writer/Teacher MA from Goldsmiths, University of London. His debut novel, The Black Flamingo, was awarded the 2020 Stonewall Book Award and shortlisted for the CILIP Carnegie Medal, YA Book Prize and Jhalak Prize. Dean is based in Glasgow and is Co-director of the Scottish BAME Writers Network.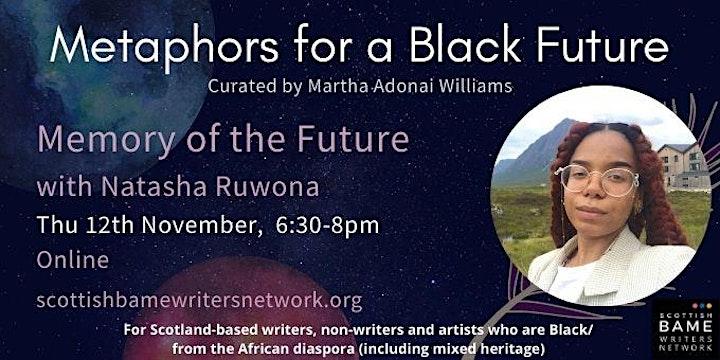 Memory of the Future with Natasha Ruwona
Date: Thurs 12th Nov 2020
Time: 6:30-8pm
Facilitator: Natasha Ruwona
Through experimental writing exercises, shared texts and discussion, Natasha Ruwona will lead us through an exploration of counter memory, ancestral relationships, archiving ourselves and the disruption of linear time.
We will borrow from ideas surrounding Afrofuturism and other Futurisms (Arabfuturism, Gulf Futurism, Indigenous Futurism) to (re)imagine the possible future(s) for BIPOC as we consider our histories and the present moment(s).
About Natasha
Natasha Ruwona is an Afrofuturist dreamer interested in thinking from an apocalyptic perspective that considers the uses of hauntology and counter memories in understanding contemporary Black identities. Natasha's work explores Black Geographies through Scotland's Black History using a Zimbabwean Diasporic lens.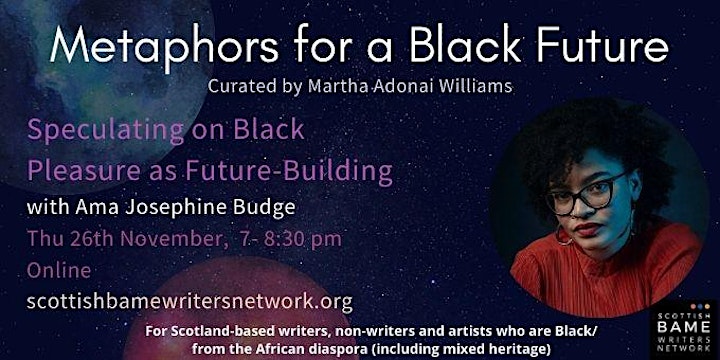 Speculating on Black Pleasure as Future-Building with Ama Josephine Budge
Date: Thu 26th Nov 2020
Time: 7-8:30pm
Facilitator: Ama Josephine Budge
This gentle in-conversation begins with a speculative offering, as writer, curator and pleasure activist Ama Josephine Budge reads from some of her newer work, positing the potentials of writing Black pleasure as an activist practice towards healing epigenetic trauma and building transformative futures. We will then break out into smaller groups for a short writing speculative exercise (no one needs to read these, they can be just for you), followed by a Q&A.
About Ama
Ama Josephine Budge is a Speculative Writer, Artist, Curator and Pleasure Activist whose praxis navigates intimate explorations of race, art, ecology and feminism, working to activate movements that catalyse human rights, environmental evolutions and troublesomely queered identities. Ama is the recipient of the 2020 Local, International and Planetary Fictions Fellowship with Curatorial Frame (Helsinki) and EVA International (Limerick). Her research for this fellowship: Pleasurable Ecologies – Formations of Care: Curation as Future-building is an in-depth exploration of decolonial and intersectional curatorial care practices. Ama's fiction has been published internationally including by Anathema Spec from the Margins, The Architectural Review, The Feminist Review, Consented Magazine and more. She is working on her first book: a speculative duology.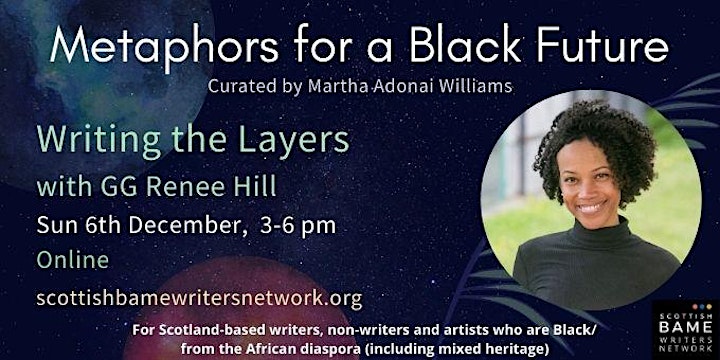 Writing the Layers with GG Renee Hill
Date: Sun 6th Dec 2020
Time: 3-6pm
Facilitator: GG Renee Hill
This interactive online masterclass provides writers of all levels with techniques that reveal the patterns, themes, and stories that shape their lives. Participants will practice writing with a beginner's mind, thought labeling to identify hidden ideas and beliefs, and storytelling as a creative path to healing. In this three-hour session, you will write, share, and discuss your work with classmates as you discover new pathways to your own inner wisdom. You will come away with writing exercises that deepen your self-awareness and expand your creative perspective.
About GG Renee Hill
GG Renee Hill is an author and workshop facilitator who helps others find, accept, and express their truths through writing. She brings her experience as a blogger, memoirist, ghostwriter, and creative coach to the books, courses, and workshops she offers on her website, allthemanylayers.com. Through her offerings, she advocates for self-discovery and emotional awareness through writing, as she creates safe spaces for others to own their voices and tell their stories. Most recently, she released the Self-Care Check-In, a guided journal packed with research-based techniques to help readers manage stress, nurture their values and goals, and take steps toward concrete change. When she's not working on her own writing projects, GG freelances as a communications consultant and workshop facilitator for corporate and non-profit clients. She lives in Maryland with her partner and three children and can be found on Instagram and Twitter @ggreneewrites.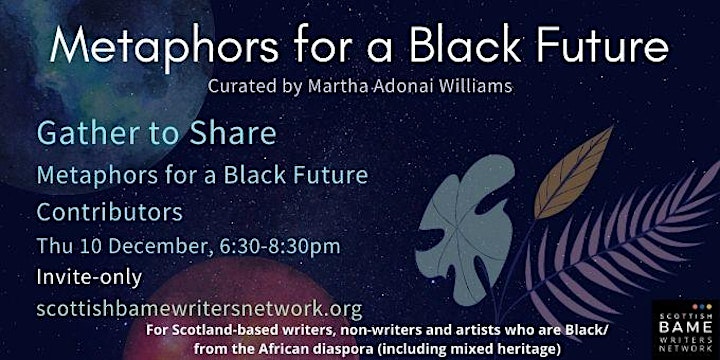 Metaphors for a Black Future: Sharings
Date: 10th Dec 2020
Time: 6:30-8:30pm
Facilitator: Martha Adonai Williams
Invite-only.
Writers, artists and invited guests will gather online to share, listen and respond to work created in and in response to the Metaphors for a Black Future programme.
There will also be interdisciplinary artist responses by:
Matthew Arthur Williams (b. 1989 London) (pronouns: he/they) is a Black visual & sound artist, freelance photographer and DJ. Lives and works in Glasgow. Their work sits to continuously encourage a different narrative and is primarily interested in the documentation of black existence and resistance, specifically in the UK. As a DJ they have coordinated multiple nightspaces in the Glasgow nightscene and is a regular host on Clydebuilt Radio.
Find them on: www.matthewarthurwilliams.com
Instagram @matthewarthurwilliams
Twitter @matthewarthurw
Camille Barton is an artist, writer and cultural somatics educator, working on the intersections of wellness, drug policy and transformative justice. Their art practice uses dance, improvisation, ritual, bass healing and Afrofuturism to weave new realities fusing pleasure and social change.
Camille facilitates Embodied Social Change – movement sessions that fuse somatics and partner work to explore how oppression, such as racism and ableism, is rooted in the body; and how we can re-pattern it using mindful attention and movement. In 2020 an Embodied Social Change workshop was featured in the VPRO documentary, The Post Racist Planet. Camille serves ritual bass as DJ AfroOankali and is interested in the healing power of low end frequencies and polyrhythms. They are currently researching grief on behalf of the Global Environments Network, creating a tool kit of embodied grief practices to support efforts for intersectional, ecological justice."
Find Camille on: www.camillebarton.co.uk
Instagram: @afrooankaliis
'Metaphors for a Black Future' is curated by Martha Adonai Williams
Martha Adonai Williams is a British-Jamaican writer, organiser and workshop facilitator based in Glasgow. She runs Call&Response, a writing community for Black women and non-binary people, and is a coordinator of the Black Feminist Bookshop. A filmed performance of her poem 'Silk' recently screened at Fringe of Colour.