to the body, to the earth
We are delighted to publish the second Metaphors for a Black Future Zine to the body, to the earth, edited by Martha Adonai Williams. Metaphors For A Black Future (MBF) is an annual programme, curated by Martha Adonai Williams.
This zine is an outcome of our 2021 Metaphors for a Black Future Programme, which ran from October to December 2021. The programme included online and email workshops held by Amanda Thomson, Ashanti Harris, Clementine E. Burnley, Lateisha Davine Lovelace-Hanson, Dr Sheree Mack and Martha, exploring embodied and environmental writing practices.
Read the zine below!
You can also read the zine on Hey Zine and download it as a PDF at this link or by clicking on the below cover image.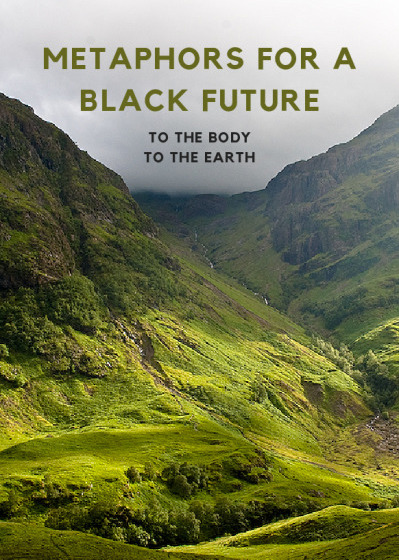 Martha Adonai Williams is a writer, facilitator, producer, community organiser, black feminist and friend. Her practice departs to and returns from black feminist world-making, always, with regular layovers in front of trash tv or at the allotment. Her work considers the wilderness and margins as sites of resistance, refusal and homecoming. She works with writing and storytelling as therapeutic tools and as methods for community building. Her recent work has been shown as part of Fringe of Colour films and published in MAP magazine. She runs call&response black feminist writing community, programmes for Glasgow Zine Library and curates SBWN's annual Metaphors for a Black Future programme.
Scottish BPOC Writers Network are so grateful to Martha for bringing this programming strand to us, along with her passion, vision, networks, and ability to create spaces that felt safe, generative, relaxed and explorative. MBF has greatly enriched our specific offering to Black writers.
Metaphors For A Black Future 2022 was an in-person day event at the Centre for Contemporary Arts in October 2022. Look out for our next evolution of this programme in 2023!
We are also incredibly proud to host the monthly Scottish Black Writers Group, facilitated by our Co-Directors Titilayo Farukuoye and Jeda Pearl Lewis. This usually takes place online on the third Thursday of every month. If you are a Black writer, we would love to see you there or at another event.